Coronavirus - Impact on Food Banks
Food Banks have been classified as an emergeny service, and we will continue to supply food to visitors.
However, in order to keep everyone safe, we need to comply with the Social Distancing rules, and you will see a more streamlined method in operation with restricted access to the building.
--------------- oOo ---------------
Whitefoot and Downham Community Food + Project
Making a Difference
The Whitefoot and Downham Community Food + Project (wdcfplus) was set up in my ward initially to recognise local needs arising from deprivation. I was preparing for the impact of the government's Welfare Act on communities, particularly from benefits changes, Bedroom Subsidy and the forthcoming Universal Credit.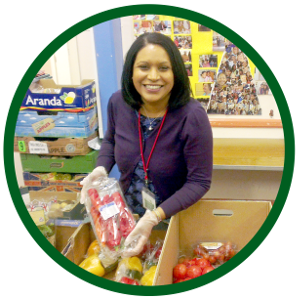 Being a Local Councillor, I had the opportunity to meet and talk to people from all backgrounds across the south of the borough and I heard many stories about people in crisis, those falling into unmanageable debt and others who were no longer able to afford food for themselves or their families.
I recognised that in other parts of the country food banks were emerging and there wasn't anything similar in my area. Because of this, I founded the organisation in 2013, by bringing together six local churches (from four different denominations) across the Whitefoot and Downham wards, as well as a local social enterprise. We are now a strong and thriving community project involving over fifty volunteers and fifteen local partnerships.

The majority of people come to us because they need help through a difficult time, such as being 'sanctioned' of their benefits. In the case of Pete, an operation on both his knees meant that he was both out of work and out of pocket for some time. He now volunteers with us as well as working part-time to give back what was given to him during his time of need. Matt is an ex-offender, long-term unemployed and a persistent drug user. He has found that volunteering for the project has encouraged him to retain a positive sense of self-worth as he now manages the most demanding section of the project's visitor area. He even comes in early every Thursday to help with collections and stock take. He is also receiving support with setting up his own business.
At present some of our food supplies are collected from local Lidl supermarkets, which were made possible by partnering with Esther Community Enterprises. Also, many surrounding churches, organisations and individuals continually supply us with donations and we are grateful for everyone's kindness.
I like to think that wdcfplus is a story of people in the community coming together to support one another, which fits in nicely with our aim to alleviate food poverty and build community. I am passionate about building community. I want everyone to achieve, prosper and reach their own potential. But most of all, I want people and their communities to consider their needs and the needs of others. Through this project I believe we are making strides to achieve this.
Janet Daby MP
Founder and Patron