Policy and Procedure - Approval of Visitors
'We are here to alleviate food poverty and to build community'
The aim of Whitefoot & Downham Community Food + Project (wdcfplus) is to improve the health and wellbeing of local people and families who access the project. It does this primarily by offering individuals and families access to food, and also through advice and support services.
New Approval Process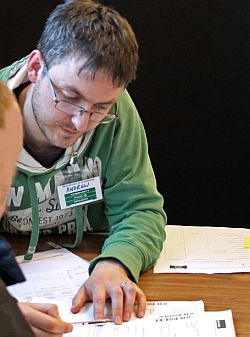 1. The project will continue to offer a self-referral service to visitors. Under the self-referral service, they can visit the project up to three times a year.
2. Following this, or prior to the above timescale, a person / family can be supported by the project if they have been assessed and a referral has been made by a partnering organisation. An organisation can refer visitors to use the project from three weeks to twelve weeks a year. Following this period the on-going nature of this support is open to review. This could lead to a further decision by the initial organisation or from a second organisation that may choose to re-refer.
3. We will require the referring organisation to complete a referral form. The person needs to bring this form with them to the project. We can assist the organisation with an assessment tool to help determine if the individual or family is entitled to food and support. The use of this assessment tool is entirely optional.
4. The referral form will provide the project with information such as: contact details, ethnicity, disability and reason/s for accessing the project, current support that is being offered to them and the period of access to the project.
5. When a visitor attends the project they have the option to engage with wdcfplus project support, such as food and nutrition advice, cooking skills, community gardening and pastoral support, and to be part of the wdcfplus community.
6. At the project each visitor will be asked to abide by the code of conduct. They will also be asked to sign a consent form to access the project.
7. There will be limited personal details held by the project on each person, and this is locked away in a cabinet in an office.
8. As part of the project's monitoring and reviewing process there will be an annual evaluation.
9. The project has chosen to support people who live within a two mile radius of the project location; people who live outside of this area will be given food for up to three times a year. For further support they will be given a list of food banks in and around Lewisham Borough.
10. The project manager at all times reserves the right to refuse a person or family from accessing the project. The steering group at all times reserves the right to change this policy without warning or prior notice (if deemed necessary).
For further information, please see Guidance Notes for Referrers.